This is an archived article and the information in the article may be outdated. Please look at the time stamp on the story to see when it was last updated.
SACRAMENTO-
Prosecutors will be seeking the death penalty in the case of a man, accused of killing two sheriff's deputies, injuring a third and shooting and injuring another man.
District attorneys from Sacramento and Placer Counties are working together on the prosecution of Luis Enrique Monroy Bracamontes. They released a joint statement Tuesday morning saying they believe "the death penalty is the appropriate penalty in this instance".
FOX40 Exclusive: Accused deputy-killer describes attack
Bracamontes originally identified himself as Marcelo Marquez, and he was originally booked into jail under that name. The courts and prosecutors have updated this information after the suspect identified himself in court as Bracamontes.
Bracamontes and his wife, Janelle Monroy Marquez, were arrested October 24 after a multiple-county crime spree.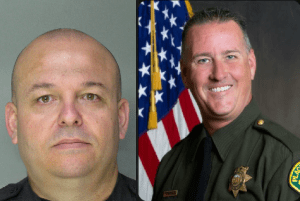 Bracamonte and Monroy, are accused of shooting at Sacramento County Sheriff's Deputies Friday morning, killing Deputy Danny Oliver.
They then carjacked at least two people, shooting at Anthony Holmes.
The couple then drove up to Auburn, where shots were fired at two Placer County Sheriff's deputies, killing Detective Michael David Davis Jr.
Monroy was arrested soon after. Then, after a brief standoff inside an Auburn home, Bracamonte was also arrested.
Bracamontes is facing charges of murder, attempted murder, carjacking, stealing a patrol car and a deputy's weapon and weapons charges.
His wife faces one count of murder, three counts of attempted murder, four counts of carjacking and possession of an assault weapon.