This is an archived article and the information in the article may be outdated. Please look at the time stamp on the story to see when it was last updated.
SACRAMENTO — Arrests were the final resolution to more than six hours of protest, five of it inside Sacramento's City Hall Friday.
The effort by the city's Black Lives Matter group began with a few people and a few signs a block away from the people's house, and then evolved into the group taking a stand in city hall's lobby.
Their signs, their song and their stand were all about 40-year-old Dazion Flenaugh.
He was killed by Sacramento police officers last April — officers who were originally trying to give him a ride home.
Those officers were among 16 people who received police department commendations Thursday.
"That's a disgrace," said Tanya Faison with Black Lives Matter Sacramento. "They shouldn't get awarded for killing anybody, especially someone who was having a mental health crisis that they triggered."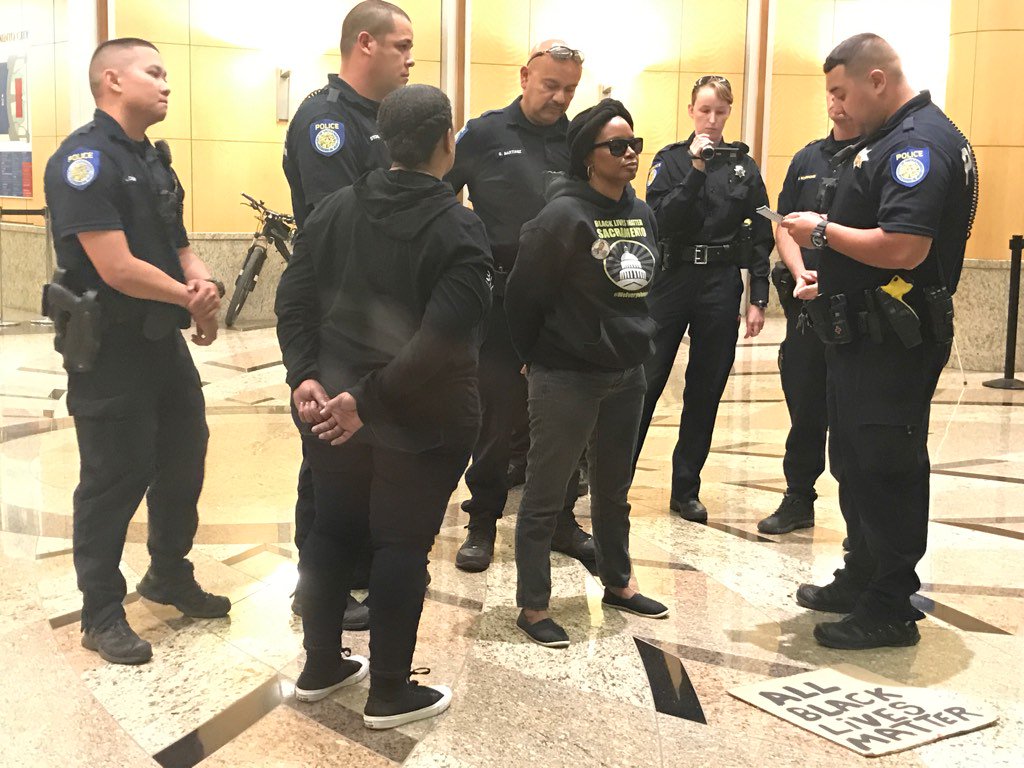 Sacramento County's District Attorney says the officers acted lawfully in a situation that started with Flenaugh being cooperative and ended with him bolting from a cruiser, breaking into several homes with a pickaxe, threatening a homeowner and charging an officer.
"These situations are very difficult for everybody involved," said Sacramento police Sgt. Bryce Heinlein. "These officers take very seriously what happened that day and this is just an acknowledgement that you went above and beyond where you had to go — and you did it for protecting yourself and the community, and in this situation it was both."
At city hall, protesters were asked to leave and instead brought their demonstration closer to other members who were being kept outside, not allowed in when the building closed at 5 p.m.
An hour later, media covering the protest was given a stern departure notice.
"Walk 20 feet that way and film everything you're filming now," said Sacramento police Lt. Roman Murrietta.
FOX40 stayed with the protest inside city hall, but during the fourth warning to leave the building, we were told we were in violation of California Penal Code 602 subdivision q, being inside a public building after it's closed.
We took our cameras outside to continue covering what was happening inside through the glass doors.
The arrests came around 9:20 p.m., when only four protesters were left inside.
Black Lives Matter members outside ran to block the doors to city hall's parking garage, to keep police cruisers from leaving with those arrested.
At around 10:30 p.m., the four people put in cuffs emerged from the other side of city hall, cited and with scheduled court dates.