This is an archived article and the information in the article may be outdated. Please look at the time stamp on the story to see when it was last updated.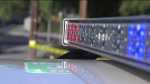 WEST SACRAMENTO-
West Sacramento Police say Raley's was briefly evacuated when a woman stole a truck driver's gun after a conversation turned into an argument Thursday.
The driver flagged down a California Highway Patrol officer, who then contacted West Sacramento Police. The woman was spotted by an officer in front of the Raley's on West Capitol Avenue.
Officers evacuated the store for about 30 minutes and was able to detain the woman. The truck driver, who is permitted to carry a gun, was able to identify the woman.
The woman was booked into Yolo County Jail on suspicion of stealing a firearm.
The man's gun wasn't found.