This is an archived article and the information in the article may be outdated. Please look at the time stamp on the story to see when it was last updated.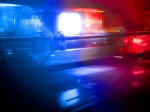 SACRAMENTO-
Leatherby's Family Creamery was evacuated Friday evening after a reported refrigerator fire.
Metro Fire tweeted that only white smoke was seen, and that the fire was in the "plug area" only.
Leatherby's has been a popular Sacramento ice cream parlor and restaurant for decades.