This is an archived article and the information in the article may be outdated. Please look at the time stamp on the story to see when it was last updated.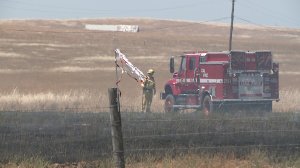 EL DORADO COUNTY-
A grass fire Friday afternoon was started by a remote-controlled plane.
The plane crashed into a field along White Rock Road near Placerville Road, and sparked the two acre fire.
A remote control flying club was having an event at the time. The members had fire extinguishers in case something like this happened.
"It's mostly likely a battery that caught fire. It's not common, it's never happened, we've been here for many years and this is the first time we had this. We have very strict procedures with airplanes that have gas or batteries," Mannie Garmy said.
The plane that crashed cost about $500, and had a wingspan of about five feet.
Kate Eby contributed to this report