This is an archived article and the information in the article may be outdated. Please look at the time stamp on the story to see when it was last updated.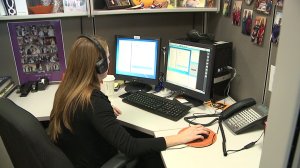 RIPON-
Modern technology is changing the realm of education. Some students are choosing to skip traditional brick and mortar schools and log on to virtual classrooms.
California Connections Academy is a tuition-free, fully accredited, online public school which serves students from kindergarten through 12th grade. A teaching center that is located in Ripon serves eight counties, is in its second year, and is pretty popular.
Almost 600 students are enrolled and they have hired eight new teachers and are still hiring.
Middle school teacher Susan Christensen came to Connections Academy after eight years of teaching in a standard classroom. Even though she doesn't see her students in person every day she believes the virtual model allows teachers a better connection with each individual student.
"I talk to them on the phone, by email, we do live lessons," Christensen said..
FOX40 sat in on one on-line class called a "live lesson" and watched as students typed their questions and the teacher responded to each one.
The students are not only limited to the virtual world. If students are able to travel they can come to the Ripon building and get face-to-face help in the student work center. The Academy also holds field trips and even though attendance isn't mandatory quite a few students show up.
Christensen thinks Connections Academy's flexible model means they will keep growing. She pointed out a number of their students are involved in sports or the performing arts where attending a traditional school would mean a lot of missed days. The curriculum also works for students who may have trouble sitting in a full classroom.
"We have students at a fifth grade level and can work at a higher level," she said, "We have students who need that extra support so we're there to support them and guide them wherever they need."
To find more information or to enroll your student visit www.connectionsacademy.com