This is an archived article and the information in the article may be outdated. Please look at the time stamp on the story to see when it was last updated.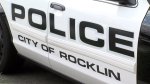 ROCKLIN-
Four suspected burglars were arrested Sunday after Rocklin Police tracked them down – with help from a Carls Jr. manager and Instagram.
Officers received four different reports of cars being broken into Saturday evening, all in the Blue Oaks Town Center and Staybridge Suites Hotel parking lots. Among the things taken from the cars were GPS devices and wallets, according to police.
Investigators say one of the victims reported seeing a $120 charge at a Carls Jr. on her credit card, which had been stolen.
Officers spoke with the manager of the restaurant, who remembered a credit card being used for a rather large drive-thru order. She described the vehicle to police and said that she may have recognized one of the people in the car as a local high school student, and that photos may have been uploaded to Instagram.
After finding that Instagram account, officers saw the photos of the giant order. Police also say they learned the suspected burglars would return to Rocklin Sunday evening.
Around 9 p.m. Sunday, police say an officer saw the suspect car speed by and pull into a Walgreen's parking lot. Officers arrested three men and a minor, all of whom are suspected of being involved in Saturday's burglaries.
Investigators say property taken from the cars Saturday was found in the suspect vehicle.
The four are charged with auto burglary, conspiracy, possession of stolen property and unauthorized use of a personal ID.