This is an archived article and the information in the article may be outdated. Please look at the time stamp on the story to see when it was last updated.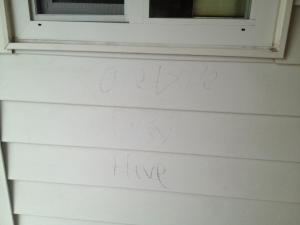 ROSEMONT—
A community awoke to gay slurs tagged on homes and cars Monday morning.
Residents along Thilow Drive called FOX40 to alert us about the graffiti – which are said to be graphic.
Neighbors told FOX40 that the area is already on edge due to the still-unsolved murder of Jessica Funk Haslam, who was found dead a little over a year ago at Rosemont Community Park. The park is just a few hundred feet from the area tagged.
Marin Austin will have a full report at 5:30. Make sure to watch FOX40 News.