This is an archived article and the information in the article may be outdated. Please look at the time stamp on the story to see when it was last updated.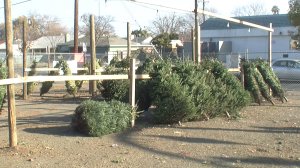 SACRAMENTO-
Christmas Eve marks the end of the Christmas tree lot sales.
Operators know to keep a few trees on hand for the growing tradition of buying and decorating trees on Christmas eve. But many began tearing down their operations the night before.
Linda White paid $20 for a seven-foot-tall tree at a lot on Northgate Boulevard. It was one of about a dozen kept on hand by operator Dave Butler.
"I consider it a bargain," White said.
Her children live out of town and work so it's hard for them to come home for Christmas early.
"We wait until they all get here so everyone can help decorate the tree. That's now our tradition," White said.
Butler said sales started out slowly the day after Thanksgiving, but picked up at the end, despite one fewer weekend in the holiday shopping season.
"It was a pretty good year," said Butler.
His crew was taking down lights, chipping unsold trees for mulch, and cleaning up his lot.
Another lot in south Sacramento started selling trees for $10 this morning and by 2 p.m., they were giving them away.  The remainder will be recycled.
Meanwhile, Butler says he's ready for a rest after working seven days a week since Thanksgiving.