This is an archived article and the information in the article may be outdated. Please look at the time stamp on the story to see when it was last updated.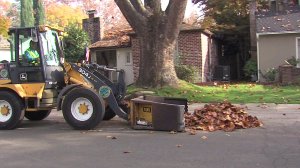 SACRAMENTO-
Recent storms have increased the collection of hundreds of tons of leaves from city streets and yards.
October through mid-January is known as "leaf season" and is a busy time for Waste Management, the company contracted by the city to handle its solid waste.
The "claw" is busy collecting leaf piles from the street and trucks empty yard waste containers filled with fall leaves.  Each truck can carry 7 to 8 tons of leaves, which are dumped onto an enormous 20 foot high pile at Waste Management's solid waste transfer station on Fruitridge Road.
The leaves may be mis-classified as "solid waste" because 10 to 14 big rig's a day carry leaves  to a composting facility in Zamora 25 miles to the north.
"All of this is being removed from the waste stream.  None of this is going to landfills," said Waste Management spokesman Justin Caporusso.
Much of the discarded leaves will end up in commercial landscaping and some in backyard gardens as soil amendment. They are a by-product of a community known as "The City of Trees."
"This is all organic material. In Sacramento it's extremely clean and really good and readily available this time of year and great material to bring in for alternate use," said Caporusso.
Waste management crews will be especially busy in early January because they are also responsible for the Christmas tree recycling program.