This is an archived article and the information in the article may be outdated. Please look at the time stamp on the story to see when it was last updated.
SACRAMENTO — Sacramento police have released the name of the person they believe is responsible for killing a grandmother and her two grandsons in the Alder Grove housing project: 52-year-old Jerod Watson.
"He is considered armed and dangerous. And we're encouraging the public if they see him to call any local law enforcement agency that he might be in," said Sgt. Bryce Heinlein with the Sacramento Police Department.
"I ain't ever meet him personally, I just see him running in and out. I used to live next door," said Vonte Williams, a friend of victims Marquise Brown and James Ferrell.
Watson is the ex-boyfriend of the mother of 23-year-old Brown and 20-year-old Ferrell, a man family told FOX40 once lived in the same home where the young men's bodies were discovered along with the body of their grandmother, 68-year-old Christine "Tina" Lucas.
What exactly Watson's motive was is still unclear, according to Heinlein, but police finally said how the victims died.
"The female that was deceased, her cause of death was stab wounds. And one of the sons, I don't know which one, his cause of death was some sort of cutting or an edged weapon," Heinlein told FOX40.
Police also released a photo of Watson's white 2010 Mitsubishi Outlander, taken by one of Sac PD's POD cameras.
Heinlein said detectives believe Watson is driving that SUV possibly heading out of California.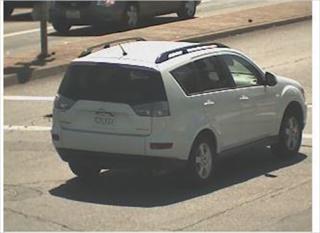 "He has connections outside of the state, so he may be heading there, we're not 100 percent sure, but it is a possibility," Heinlein told FOX40.
Property records show Watson used to live in Texas and Louisiana.
Meanwhile Sacramento police said he has a criminal past.
Ferrell's father, Robert Ferrell, told FOX40 Watson was abusive to his son, Brown and their mother. The boys would also complain about him to their friends, according to Williams.
"They used to tell me they didn't like him, you know what I mean," Williams said.
Now many hope Watson is brought to justice soon.
"They didn't deserve none of this, and wherever you at, best believe you will be found. But you hurt a lot of people, bro, and it's not going to go unnoticed, just know that," one friend told FOX40 outside the family's home on Broadway, near Eighth Street.
Sacramento police are still asking for witnesses to come forward, especially if anyone saw Watson on Saturday. Contact the dispatch center at (916) 264-5471 or Crime Alert at (916) 443-HELP (4357) or submit an anonymous tip using the free "P3 Tips" smartphone app.  Callers can remain anonymous and may be eligible for a reward of up to $1,000.