This is an archived article and the information in the article may be outdated. Please look at the time stamp on the story to see when it was last updated.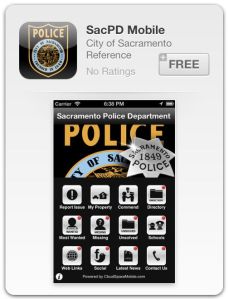 SACRAMENTO-
The Sacramento Police Department unveiled a new iPhone app Tuesday.
The app features a contact link, that features a 911 button and a department phone directory. Users can also report a non-emergency issue anonymously, if they want.
Missing persons photos, information on Sacramento's most wanted and cold case files can also be found on the app, which is free on iTunes.
No Android version is available as of this writing, though police say a version should show up on the Google Play store soon.
Also included in the app is a link to the departments several social media sites. Those sites earned Sacramento Police a spot on a list of America's most social media-friendly police departments.
Click here to view the app in the iTunes store, or search "SacPD Mobile" on your iPhone to download it.