This is an archived article and the information in the article may be outdated. Please look at the time stamp on the story to see when it was last updated.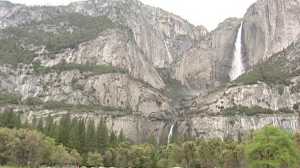 YOSEMITE –
A 19-year-old Sacramento boy was swept over Nevada Fall in Yosemite on Saturday afternoon.
Reports came in from a witness around 2:45 p.m. that they saw a boy get swept over Nevada Fall in Yosemite National Park.
The boy was identified as Aleh Kalman, a 19-year-old Sacramento resident that was hiking the Mist Trail with a church group when the accident happened.
The witness said they saw Kalman swimming about 150 feet from the edge of Nevada Fall when he was swept away by the current. Ground teams, as well as a CHP helicopter searched the area until dark.
The Merced River, which feeds the 594 foot waterfall, is currently flowing quickly with water in the low 50's – a dangerous combination.
A section of the Mist Trail is closed temporarily for the investigation, which is continuing on Sunday. Three dog teams and a 20 person ground crew are searching up and down the river for  any sign of Kalman.
Yosemite National Park officials urge visitors to be careful around the water in the park. Even though snow pack was low this year, the rivers are running strong and the water is very cold.
Related Stories:
Community in Shock over Loss of Citrus Heights Teen at Yosemite Waterfall
Body of Missing Yosemite Hiker Found
Young Girl Apologizes for Stealing Sticks, Will Replace them at Yosemite National Park