This is an archived article and the information in the article may be outdated. Please look at the time stamp on the story to see when it was last updated.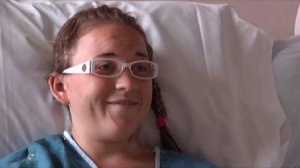 ANCHORAGE, Alaska-
A Sacramento woman says she was attacked by a bear while jogging around an Anchorage, Alaska Army base, and played dead to stop it.
Jessica Gamboa said she went on a jog with her husband, who is stationed at the base, to break in some new shoes when they became separated. She saw some cubs and says she was suddenly face to face with a large grizzly, the cubs' mother.
The Army released a bedside video interview with Gamboa, in which she describes being picked up by the bear and thrown across the road.
"I played dead the best I could," Gamboa said. "I didn't really make a noise, scream or fight back, for that matter. I just completely surrendered."
The mauling left Gamboa with cuts to her neck, arms and legs and fractures to her neck, but doctors say she'll be O.K.
Ian McDonald and Amy Henderson contributed to this report.