This is an archived article and the information in the article may be outdated. Please look at the time stamp on the story to see when it was last updated.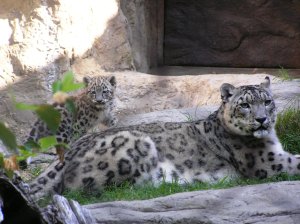 SACRAMENTO—
The Sacramento Zoo's 20-year-old snow leopard had to be euthanized, the zoo announced Saturday.
Shanti, as she was known, had been living at the zoo since 1997. Zoo officials said that keepers noticed back on July 7 that Shanti looked to be injured, according to a release by the zoo.
Veterinarians found trauma to Shanti's back – including damage to her vertebrae, making it hard for her to move around comfortably. A bite wound, among other injuries, to Shanti seems to show that her companion of the last seven months – a young male snow leopard – were involved in some sort of fight, but officials are stopping short of saying Shanti's vertebrae damage is related.
Shanti was given antibiotics and pain medications, but her condition started to worsen.
Due to the complications from neurological damage and infection, vets and zoo officials decided that the best course of action would be to euthanize Shanti.
Friday, Shanti was euthanized. She is survived by four litters of cubs she gave birth to while at the Sacramento Zoo.