This is an archived article and the information in the article may be outdated. Please look at the time stamp on the story to see when it was last updated.
PORTLAND-
Call it soccer diplomacy, Sacramento Mayor Kevin Johnson rubs elbows with Major League Soccer president Mark Abbot in an effort to bring big league soccer, and a new stadium, to the capital city.
"It was a great meeting. The mayor came and was explaining his commitment to soccer in Sacramento, and his interest in bringing soccer to Sacramento," Abbot said. "As you know, covering him, he's a wonderful guy. We enjoyed having a chance getting to know him a little better today."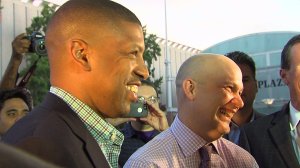 Wednesday afternoon's meeting saw a concerted presentation from Mayor Johnson, Republic Football Club president Warren Smith, and King's president Chris Granger to MLS officials.
The premier professional soccer league has plans to bring three new teams into the fold by 2020, with 2 of those already in the bag, the MLS is looking to Minneapolis and Las Vegas as other potential cities. Wednesday's show of collaboration from Sacramento's mayor and sports teams was a needed display of teamwork to secure the capital city as a serious contender for that final MLS slot.
Abbot has agreed to travel down to Sacramento at the end of the September, to tour potential locations for a new stadium. The MLS has made it clear that while the fans for a major league soccer team may already be in Sac, a world class outdoor stadium to house them will have to be built.
That's why the collaboration between the MLS dream team is so key. With the city's cooperation, the King's money, and the Republic's identity, Sacramento presents an impressive united front.
Collin Poseley contributed to this report.