This is an archived article and the information in the article may be outdated. Please look at the time stamp on the story to see when it was last updated.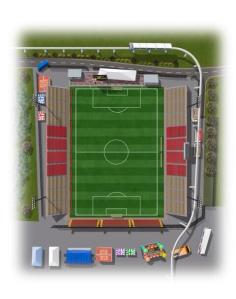 SACRAMENTO-
You can not see it, but soon you will hear it – 8,000 fans cheering in the first pro soccer stadium in Sacramento and its name "Bonney Field."
Named after its greatest supporter and long standing local business Bonney Plumbing Heating and Air.
"It is something that allows us to really reach out to that community, the youth, and we can now connect with our next generation of fans," Bonney CEO Jimmy Crabbe said.
Sac Republic FC made the announcement Monday in honor of their greatest supporter and long standing local business.
While progress has been made since construction began in March, Bonney Field is expected to be completed by June 7.
"We started our construction in late March and so far so good," Erika Bjork, Vice President of Marketing, Sac Republic FC, told FOX40.
While the facility will have some custom made bleachers with seat backs, it will not have box seats.
The pitch is also one of the largest in the country, a first step in bringing a major league soccer team to Sacramento.
"And ultimately for us to become an MLS team we can be playing here as a soccer specific franchise while building and MLS stadium," said Bjork.
SRFC hopes Bonney Field will draw an MLS team and that a new professional stadium could be built in downtown Sacramento.
Sacramento hopes to host its first pro rugby game at Bonney Field stadium in late June.
This Saturday will be SRFC's home opener at Hughes stadium where the team currently plays.
Cal Expo Board Approves Sac Republic's Field Plans
Sac Republic FC Narrows Squad with Tryouts