This is an archived article and the information in the article may be outdated. Please look at the time stamp on the story to see when it was last updated.
STOCKTON-
The San Joaquin County Board of Supervisors passed a resolution Tuesday, opposing the controversial Bay Delta Conservation Plan that proposes building two massive tunnels to convey water around the San Joaquin Delta.
Seven years in the making, the plan purports to help endangered fish and wildlife and provide a more stable supply of water users in southern and central California, proponents say.
Board members, however, say the plan takes 140,000 acres of farmland out of production to create wildlife habitat and would do nothing to provide more water for users.
"People who sell trucks, who sell seeds, all these things, it's a blow to the economy," Supervisor Ken Vogel, who farms in the San Joaquin valley, said Tuesday.
They say any kind of plan must include an increase in water storage, through above and underground reservoirs.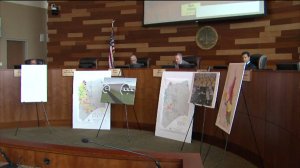 "We're basically saying, 'You didn't do a very good job, and need to start over again,'" Supervisor Larry Ruhstaller said.
That's not likely to happen because the plan is backed by dozens of water districts who are looking for a more stable source of water. Water flows are now dependent on water transfers would affect endangered fish. The tunnels, say proponents, would be less disruptive to the endangered Delta smelt.
They say the water management system isn't working to the benefit of fish, salt water intrusion into the Delta or for the people who rely on the water to the south. They also say the plan would for the most part send less water south than is going there now.
Opponents say the project hasn't solved the engineering requirements needed to build the tunnels, which will generate 53 million cubic yards of muck, the equivalent of 15 Giza pyramids with nowhere to put it.
Board Chair Bob Elliott says the people who have to live with the consequences of the plan don't have a say in how it's implemented.
"Give us a seat at the table, make us a part of the process which governs the bay delta conservation plan," said Elliott.
The Department of Water Resources has asked for input from stakeholders by the end of the month. The Board of Supervisors say after looking at the plane extensively, their position hasn't changed, with Board member Carlos Villapudua calling it a "disaster" for San Joaquin County.