This is an archived article and the information in the article may be outdated. Please look at the time stamp on the story to see when it was last updated.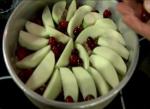 SACRAMENTO-
The sweetest spot in Sacramento is making room for seconds.
Rick's Dessert Diner, a favorite nighttime stop for a sweet treat, is moving down the street. The classic-looking diner has been at 24th and K Streets in Midtown since 1986, making hundreds of unique desserts. They will now take up the main storefront in the three-story building near 24th and J Streets.
The owner, Ahmed Eita, told FOX40 they needed a bigger kitchen and space to accommodate the increase in wedding and event catering they are doing. Also, he said while the lingering recession caused many people to cut back on life's little luxuries, it appears indulging in a delicious dessert was not one of them.
Rick's will be adding staff at their new location, however they did not know how many at this time.