This is an archived article and the information in the article may be outdated. Please look at the time stamp on the story to see when it was last updated.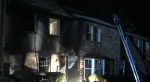 SOUTH SACRAMENTO –
A father heroically rescued his four young children from a burning condo in South Sacramento around 1 a.m. Thursday.
The father, Deon Hill, and one of his children, a girl, were taken to a hospital from their home on Creeks Edge Way and Franklin Boulevard because of their injuries. The father suffered from smoke inhalation and his daughter had second degree burns on her face and feet.
The mother and three other children were at the hospital early Thursday morning, but will find another place to stay for the night with the help of the Red Cross.
Battalion Chief Rusty VanVuran said a veteran Sacramento City firefighter was also injured when he suffered from exhaustion and was taken to the hospital.
Metro Fire and Sacramento Fire Department Firefighters were both on the scene and were able to contain the fire to one home, despite the fact the homes are all very close to each other. Everything in the family's home was destroyed by the fire.
It's unclear how the fire started.