This is an archived article and the information in the article may be outdated. Please look at the time stamp on the story to see when it was last updated.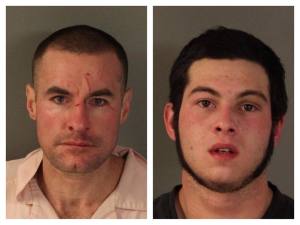 FORESTHILL-
The Placer County Sheriff's Department says two men shot at a patrol car during a chase Sunday morning between Auburn and Foresthill.
Deputies tried to pull over a red Volkswagen Cabrio along Lincoln Way in Auburn. Investigators say the car didn't stop, but started driving toward Foresthill. During the chase, deputies say at least two shots were fired from the VW at a patrol car.
Nothing was hit by the bullets, according to deputies.
The VW crashed into a free near downtown Foresthill, investigators say, and both men inside ran into the woods.
One of the men from the car, 31-year-old Eric Eaton, was found after about 20 minutes. Deputies say an uncooperative Eaton was taken into custody with the help of a K-9.
The second person from the car, 20-year-old Phillip Murphy, was found hours later, holed up inside a home in Foresthill. After refusing to talk to deputies, a Special Enforcement Team was sent in to get Murphy. He surrendered without further incident, deputies say.
Eaton was treated for injuries to his arm.
Deputies say the VW was apparently reported stolen a few days earlier.
Both men were booked on charges of attempted murder, shooting at an occupied vehicle and evading a peace officer.