This is an archived article and the information in the article may be outdated. Please look at the time stamp on the story to see when it was last updated.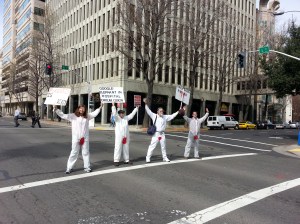 SACRAMENTO-
Spring is the demonstration and protest season at the State Capitol.
Among the first groups on the streets this year is an organization that is protesting circumcision.
Shock value is key to getting attention when there is plenty of competition from protest groups at the State Capitol.
Besides objecting to the medical procedure, they are upset at a recent bill that lowers restrictions on circumcisions and requires the approval of just one parent.
Demonstrators brought their message to cars at 10th and L Streets that were stopped for red light.