This is an archived article and the information in the article may be outdated. Please look at the time stamp on the story to see when it was last updated.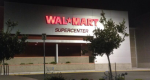 WEST SACRAMENTO –
Three men tried taking $500 worth of goods at a West Sacramento Wal-Mart early Monday morning, according to a West Sacramento police officer.
The early morning attempted theft stood out because with only two days left until Christmas, hundreds of cars filled the parking lot and many people were inside the store, either working or shopping. The crowds were  more typical of a late morning or afternoon at a store.
Four police cars pulled up to the 24-hour Wal-Mart around 3:30 a.m. near Reed Avenue and I-80. They hoped to catch all the men, but were only able to get one. That man was taken into custody. A West Sacramento Police officer said all three people were in their 30's.
The police officer FOX40 spoke to said he did not see any of the items that the men tried running away with, but he was told they tried taking "random items" like tools and clothing.
By 5 a.m., all the police cars had left the area and it was business as usual inside the store.