This is an archived article and the information in the article may be outdated. Please look at the time stamp on the story to see when it was last updated.
ELK GROVE — A controversy is brewing in Elk Grove, where some parents are upset a first-grade textbook features democratic candidate for governor Gavin Newsom as a "champion for people's rights."
Conservative groups say Newsom's appearance in the book is nothing but propaganda.
"Well we get a notice from the school district that they were testing some new curriculum," said Greg Burt.
Burt is the Director of Capital Engagement for the California Family Council, a conservative group out of Fresno. But he is also a parent of a high school student within the Elk Grove Unified School District.
So he decided to check out some of the new textbooks the district is using in a pilot program for first-graders.
"There was different various heroes we'd typically see in a first-grade class, like Abraham Lincoln and Martin Luther King. And then there was Gavin Newsom, and I go, 'Well that's interesting,'" Burt said.
The book explains how as Mayor of San Francisco, Newsom said people could marry who they choose, saying, "Sometimes, Gavin helped marry people. Some marriages were not between a man and a woman. He made sure that people's rights were respected."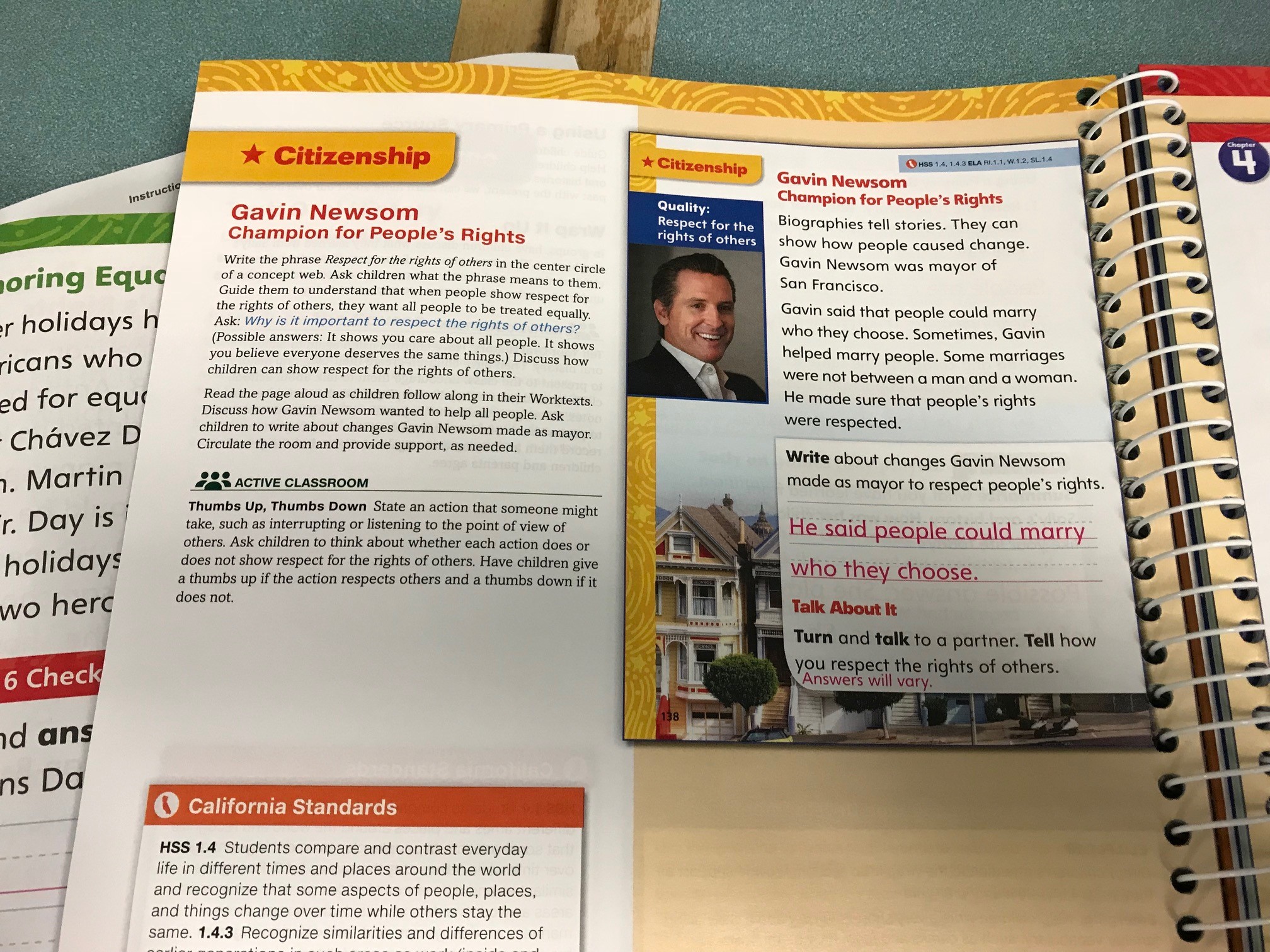 "That's way over the top," Burt said. "It looks like it was written by his campaign staff. And now they're teaching it to all first-graders."
"It's important not to just look at one page, but to look at the entire book," said Xanthi Pinkerton.
Pinkerton is the spokesperson for EGUSD. She says the book has not been officially selected yet and parents can still voice their concerns.
But she says this book helps the district stay in compliance with the FAIR Education Act, a state law that requires history and social science books include heroes to minority groups.
"A lot of work that's gone into these particular social science materials, that look at all of the groups, ethnic groups, cultural groups, that had previously been underrepresented and now they're being represented," Pinkerton said.
In a statement to FOX40, the book's maker, Pearson Publishing, says it "takes many steps to ensure our curriculum is accurate, unbiased, and presents a balanced view of the subject matter."
"The information that's presented in the book is factual, it's historically factual," Pinkerton said.
But Burt disagrees, calling the book propaganda ahead of the governor's race and saying it omitted a lot of facts about Newsom.
"Technically he was breaking the law and he decided that he didn't like the law and he was going to violate it," Burt said.
Newsom's campaign and the campaign of his opponent, Jon Cox, had no comment for FOX40's story. Meanwhile, Pinkerton says in no way is this an endorsement from the school district in Newsom's race for governor.