This is an archived article and the information in the article may be outdated. Please look at the time stamp on the story to see when it was last updated.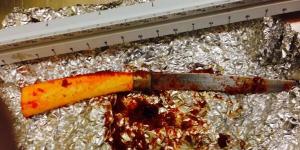 SONOMA-
What looked like a tasty, homemade meal, turned out to be hiding an 8.5-inch knife.
While going through airport security at the Charles M. Schultz Airport in Sonoma County Monday, an Alaska Airlines passenger was pulled aside for what TSA agents found inside the foil wrapper.
https://twitter.com/TSAmedia_NicoM/status/455840126485020672
The TSA public affairs spokesperson later tweeted that the knife was found in Sonoma, and not Oakland. TSA Oakland manages the Sonoma Airport, causing the confusion.
The woman told TSA she made the enchilada at home, but doesn't know how the knife got inside.
The knife in the enchilada would have been allowed to be packed in a checked bag, but not carried onto the plane. Attempting to take a concealed weapon past airport security can yield a fine of up to $10,000 and a criminal referral.
The passenger was cleared at the airport, but it is unclear if further actions will be taken.
Greg Cotta filed this report