This is an archived article and the information in the article may be outdated. Please look at the time stamp on the story to see when it was last updated.
STOCKTON-
Misty Holt-Singh reportedly pleaded and begged three armed men not to take her hostage during a bank robbery at a Stockton Bank of the West in July. Holt-Singh was shot and killed by officers' bullets during a police chase and shootout later that afternoon.
Thursday morning, Holt-Singh's husband, Paul, and the family's attorney, Gregory Bentley, revealed information they had learned about the July 16 incident.
Images on surveillance video from inside the Bank of the West allegedly show Holt-Singh pleading with the bank robbers not to be taken. She and two others were taken.The other two women taken hostage were able to escape the suspects' SUV during the chase.
LISTEN: Audio Sheds Light on Deadly Bank Robbery 
According to Bentley's investigation of the robbery, police chase and shootout, Stockton Police fired 600 bullets.
The police department revealed earlier this summer Holt-Singh had been shot ten times, and each bullet turned out to be police-issue. Police investigators believe Holt-Singh was used as a human shield during the final moments of the chase and shootout.
Bentley said officers knew Holt-Singh was in the vehicle with the three bank robbery suspects at the time of the shooting.
MORE: Stockton Police Believe Suspect Linked to Previous Bank of the West Robbery
He went on to say Stockton Police officers have been working with them in their investigation, but not all documents about protocol and other requested forms have been released.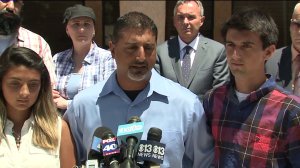 Three months after the crime and tragic ending, Paul Singh says the pain of her loss has not subsided. He said everyone has their opinions about what happened, "I am human, and I am going to have my opinion as well".
The Singh family has not filed a lawsuit at this time, but they are considering all their options.
Luana Munoz contributed to this report