This is an archived article and the information in the article may be outdated. Please look at the time stamp on the story to see when it was last updated.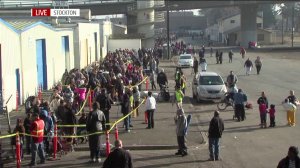 STOCKTON-
Though the number of people hasn't been officially counted, it appeared thousands of people were at the Stockton Food Bank Tuesday morning to pick up food for Thanksgiving.
The food bank had expected around 2,000 people. The line stretched out of view, around the block on W. Scotts Avenue.
Early attendance estimates put the crowd around 4,000 people.
A number of food baskets would also be delivered, the food bank said.
To donate items to the Stockton Food Bank, head to 7 W. Scotts Avenue, or visit their website here for more information.