This is an archived article and the information in the article may be outdated. Please look at the time stamp on the story to see when it was last updated.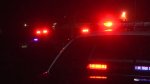 STOCKTON-
A man was hit and killed by a train early Monday morning in Stockton, according to Union Pacific.
Investigators say Mark Kritch Jr., 37, was laying on the tracks when he was struck at around 1:40 a.m.
"Our hearts go out to the family of friends of the individual who passed away," Union Pacific spokesperson Aaron Hunt said in a written statement.
The train was heading from Lathrop to Minnesota.
Hunt said that the crew was put into a counseling support program.
"These incidents can be very impactful for the engineers and conductors as you can imagine," Hunt wrote.
Union Pacific freight trains usually take at least a mile to come to a stop, according to Hunt.