This is an archived article and the information in the article may be outdated. Please look at the time stamp on the story to see when it was last updated.
STOCKTON—
Detectives now believe at least one of the suspects in Wednesday's heist had robbed that same bank in January.
Although the bank of the West location is now closed, a memorial has stayed and continues to grow.
Terri Pierce says she was there the day the bank robbery happened, a scene she won't soon forget. "The next thing you know, about 15 seconds later, all 3 of them came out with hostages," said Pierce.
Officer Joe Silva, of the Stockton Police Department said detectives are confident that Alex Martinez was one of the suspects involved in the January 31st bank robbery at the same Bank of the West branch in Stockton.
If you look at the surveillance pictures taken in January from that robbery, and compare it to those of Alex Martinez, you can see how police made the connection.
"Detectives went through witness statements, video surveillance, and just the similar MOs between the two, we were able to link him to that bank robbery," added Officer Silva.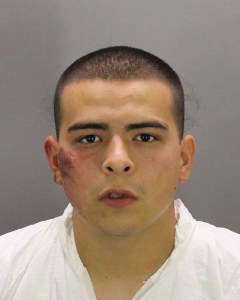 That time, the suspect also got away in a stolen bank employee's car. Police still aren't sure, or at least aren't saying, if Gilbert Renteria or Jaime Ramos also played a part in January's heist.
Samuel Trujillo says he went to school with Jamie Ramos whose actions caught everyone off-guard. "I've been knowing him since I was little, always a chill guy. Never disturbed anything, like never caused any problems. Always very calm and just nice," said Trujillo. "I'm in shock, because he was always chill."
Meanwhile there's still no word on a 4th suspect, who investigators believe gave the other 3 men a ride to the bank on Wednesday. On Friday, Stockton police recovered the car that person was driving, but they still haven't named the suspect who is still on the run.
"Evidence technicians they're still processing that car along with investigators so we can figure out exactly who owns that car," said Officer Silva. "Hopefully we'll get some information on who the driver of that vehicle is."
Ramos is expected to appear in court tomorrow.
Family of Slain Hostage Expresses Grief, Asks for Recordings of Stockton Chase
Mayor Asking for More Cops After Deadly Chase and Shootout
Suspects' Arsenal Not Uncommon Among Gang Members, says Law Enforcement
Relatives of Slain Hostage Blame Police Tactics
Stockton Robbery and Chase Update: 20+ Officers on Leave, Suspects Had Gang Ties