This is an archived article and the information in the article may be outdated. Please look at the time stamp on the story to see when it was last updated.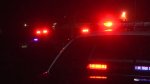 STOCKTON-
Stockton Police say two people are dead after a four-car crash Thursday night at West Lane and West Lane Frontage Road.
Officers say the driver that caused the crash fled the scene.
The crash happened around 8 p.m., Officer Joe Silva told FOX40.
The conditions of the other people involved in the crash were unknown.