This is an archived article and the information in the article may be outdated. Please look at the time stamp on the story to see when it was last updated.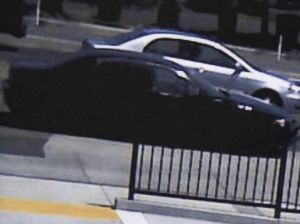 STOCKTON-
Officers are looking for a 4th suspect in connection with a bank robbery and chase that ended with a deadly shootout earlier this week.
Stockton Police released an image showing the car they believe dropped off the three suspects at the Bank of the West along Thornton Road Wednesday afternoon.
Investigators are asking for help identifying the car's owner and who may be driving it.
Three men robbed the Bank of the West Wednesday, then used three hostages to escape as officers surrounded the bank.
After chasing the suspects for more than an hour, the pursuit ended in gunfire. In the end, one of the hostages was dead, and two of the suspects were dead.
The surviving hostages were taken to the hospital for treatment. The surviving suspect, Jaime Ramos, was booked into jail. A law enforcement source close to the investigation confirmed that Alex Martinez and Gilbert Renteria were the suspects that were killed.
Anyone with information about the car and possible fourth suspect is asked to call Stockton Police at (209) 937-8377.
Mayor Asking for More Cops After Deadly Chase and Shootout
Suspects' Arsenal Not Uncommon Among Gang Members, says Law Enforcement
Relatives of Slain Hostage Blame Police Tactics