This is an archived article and the information in the article may be outdated. Please look at the time stamp on the story to see when it was last updated.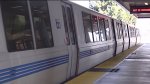 CONTRA COSTA COUNTY-
Describing traffic along Interstate 80 as "hellish" is definitely not an understatement.
Bay Area Rapid Transit District 7 director Zakhary Mallett thinks the road could be a lot less congested by sending BART tracks and trains all the way to Hercules.
"The section between Highway 4 and the Bay Bridge and for some reasons, we've been bringing BART extensions everywhere, except where data shows it's needed," Mallett told FOX40.
For a class of super-commuters who live in Solano County, a BART stop in Hercules, 7.5 miles closer, could be just the push they need to get off the road. 
"If they were to move a station to Hercules, I would gather signatures. I would help. Volunteer to gather signatures for that," commuter Jason Richards told FOX40.