This is an archived article and the information in the article may be outdated. Please look at the time stamp on the story to see when it was last updated.
STOCKTON-
Can you identify this package thief? Stockton Police say the woman who approaches the porch, and the driver in the truck were seen casing the Brookside West neighborhood last week.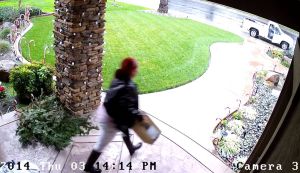 The suspects drove by the home as the package was delivered, and according to police, just six minutes later they circled back and took the package.
"I'm very offended by it," homeowner and retired police officer Mark Lujan said.
In addition to the home where this surveillance video was taken, other residents nearby reported having packages stolen.
Anyone who knows the woman seen in the video, or has information about the package thefts, please call Stockton Police at (209) 937-8377. Or callers can remain anonymous and call Crime Stoppers at (209) 946-0600.
Citizens may also text information from their cell phones to 'Crimes' (274637) and type the keyword TIPSPD and then their tip or logon to the Stockton Police Department's Facebook page and click 'Submit A Tip'. Tipsters may also send tips on the Stockton PD Mobile Phone App. Tipsters can remain anonymous.
If you have any information that may lead to an arrest, call Crime Stoppers at (209) 946-0600. Crime Stoppers pays cash rewards up to $10,000.