This is an archived article and the information in the article may be outdated. Please look at the time stamp on the story to see when it was last updated.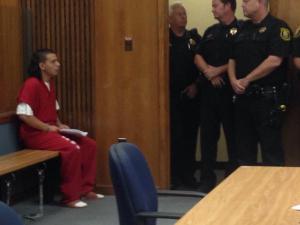 STOCKTON-
Jaime Ramos, the 19-year-old surviving suspect after last week's bank robbery and deadly police chase, appeared before a judge Monday to hear the more than 30 charges against him.
Ramos is accused of robbing the Bank of the West along Thornton Road in Stockton with Alex Martinez and Gilbert Renteria.
The three men took three women hostage as they left the bank, then got inside a bank employee's car and took off.
Officers chased the car for more than an hour, they say the suspects fired shots at them as they were driving.
Two of the hostages were released from the car during the chase. The third, Misty Holt-Singh, was found dead inside the suspects' car after a shootout between the men and police.
Renteria and Martinez were killed; Ramos was arrested and faces more than 30 charges including  homicide, kidnapping, robbery and attempted murder. Almost two dozen of those charges are for the attempted murder of a peace officer, and Ramos faces three counts of murder for Holt-Singh and the two dead suspects.
There is also a fourth suspect on the loose. Investigators say someone dropped off the three men at the bank last Wednesday afternoon. A car believed to have been driven by this remaining suspect was recovered, and investigators have not released any other information about this person.
Stockton Police Believe Dead Chase Suspect Linked to Previous Robbery
Family of Slain Hostage Expresses Grief, Asks for Recordings of Stockton Chase
Mayor Asking for More Cops After Deadly Chase and Shootout
Relatives of Slain Hostage Blame Police Tactics
Stockton Robbery and Chase Update: 20+ Officers on Leave, Suspects Had Gang Ties