This is an archived article and the information in the article may be outdated. Please look at the time stamp on the story to see when it was last updated.
EL DORADO HILLS  -- A man arrested Monday is accused of walking into an El Dorado Hills bank, handing a teller a note that said he was armed and wanted money, and the running off into a nearby neighborhood.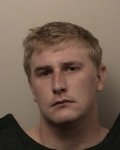 "What you saw him wearing when you saw him, was what he was wearing when we contacted him," said Sgt. Todd Hammitt of the El Dorado County Sheriff's Department.
Twenty-two-year-old David Jarrell had no shirt, a pair of what appears to be boxer-briefs and shoes.
When deputies made contact with him they say he was lying in the grass near a creek bed.
"He was laying in the brush next to the creek. When he was contacted, he said he was going for a swim," Hammitt said.
It's not exactly a popular swimming spot.
"Haha.. Yeah. That's not very deep. So he couldn't have been swimming," said Ralph Bailey.
Bailey lives along that creek in the quiet, up-scale El Dorado Hills neighborhood.
It was his neighbors who led police to the suspect as Jarrell was running away from the bank, hiding in backyards.
"We're so close-knit... everybody watches out for everybody," Bailey said.
As for who this pants-less prisoner might be, we at FOX40 noticed a sharp similarity between him and a man the FBI is calling the "Bandaged Bandit." That's a prolific bank robber who taped-up his face before hitting 2 banks in Eldorado Hills, one in Folsom and one in Rocklin.
"At this time, we don't believe it's connected with any other robberies," said Sgt. Hammitt.
Jarrell has been booked into the El Dorado County Jail on three count of robbery and on count of attempted robbery.
In a later released press release, detectives revealed they are investigating Jarrell for ties to robberies in the regions.