This is an archived article and the information in the article may be outdated. Please look at the time stamp on the story to see when it was last updated.
ROCKLIN —
A suspected car burglar was arrested Sunday after police say he crashed a car on Interstate 80 in Rocklin and then attempted to flee on foot.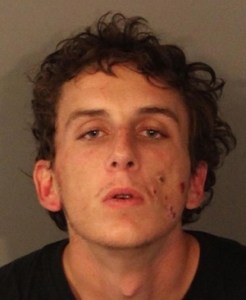 Just before noon Sunday, officers from the Rocklin Police Department responded to a report of a man trying to break into vehicles parked along Commons Drive. As officers arrived, the suspect, later identified as 23-year-old Caleb Bodine, fled in a dark-colored car.
Officers spotted the suspect vehicle on Granite Drive and attempted to stop the car. Bodine pulled the car over in a nearby business parking lot, but when officers approached the vehicle, he sped off, police said.
Bodine continued driving on westbound I-80 just west of Sierra College Boulevard until he crashed the car into the center median, according to police.
Bodine then ran across the freeway and continued to flee officers by jumping over fences and running through several business parking lots, police said.
After an extensive search involving officers from the Roseville Police Department, Placer County Sheriff's Office and the CHP, Bodine was arrested, police said.
Bodine was booked into the Placer County Jail on charges related to auto burglary, evading arrest, petty theft, hit-and-run and driving on a suspended license.
Police say three victims have come forward saying their vehicles were broken into. If you believe that you may have been a victim, you are encouraged to call (916) 625-5400.