This is an archived article and the information in the article may be outdated. Please look at the time stamp on the story to see when it was last updated.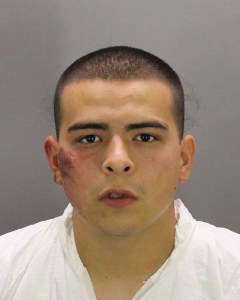 STOCKTON –
Stockton Police have released the identity of the remaining living suspect involved in Wednesday's deadly shootout with police.
CLICK HERE to read the full story 
Jaime Ramos and two other men reportedly robbed the Bank of the West along Hammer Lane in Stockton Wednesday afternoon. They then took three women hostage when they left the bank, shielding themselves from the responding officers.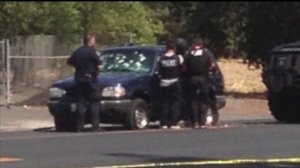 They then led police on a high-speed chase along I-5 and Highway 99. Two hostages were thrown from the car during the chase. After the chase ended, as officers responded to the suspects' car, they discovered one hostage dead and one suspect dead. A second suspect later died at the hospital.
The two surviving hostages are being treated at a hospital, and are expected to survive.
WATCH: Relatives of Slain Hostage Blames Police Tactics
Ramos, a 19-year-old, is being charged with homicide, kidnapping, robbery, and attempted murder charges.
Ramos remains behind bars at the San Joaquin County Jail, he will be in court on July 21.
His suspected accomplices were two documented gang members and Stockton residents. They are only being identified as a 27-year-old man and a 30-year-old man.
The investigation is ongoing near Otto Drive and Thornton Road in Stockton, where at least 3 guns have been recovered so far.
Collin Poseley contributed to this report.