This is an archived article and the information in the article may be outdated. Please look at the time stamp on the story to see when it was last updated.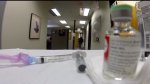 SUTTER COUNTY-
Sutter County health officials announced Monday that the flu claimed its first victim under the age of 65 in the region.
Dr. Lou Anne Cummings, with County of Sutter Public Health, added that the person was younger than 18.
Officials say the strain of flu prevalent in the 2013-14 season is much more serious than in years past. State officials said Friday that there have been 202 confirmed flu-related deaths, and another 41 were being investigated.
Infants, the elderly, those with other health conditions and pregnant women are particularly vulnerable to the flu.
Health experts agree that the best way of preventing the flu is to get vaccinated.