This is an archived article and the information in the article may be outdated. Please look at the time stamp on the story to see when it was last updated.

FOLSOM — Two people were killed Monday morning when a wrong-way driver sped down White Rock Road and collided head-on with another car.
A 41-year-old man, later identified as Christopher Haynes, died after colliding with a 21-year-old woman driving a silver sedan near Prairie City Road. The woman was killed as a result.
Witnesses told California Highway Patrol officers that around 8:20 a.m. they watched the man's gold Toyota SUV drive at speeds up to 80 to 100 mph into oncoming traffic. He then collided head-on with the woman's sedan and caused it to overturn onto its roof.
A Camry was also impacted by the collision and the driver is being treated at a local hospital after sustaining minor injuries.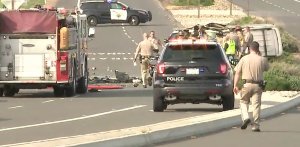 Delays are to be expected as a result of the crash and authorities are urging commuters to use alternate routes.
White Rock Road was closed for much of Monday, reopening around 2:30 p.m.
Stay with FOX40 for more updates on this developing story.