This is an archived article and the information in the article may be outdated. Please look at the time stamp on the story to see when it was last updated.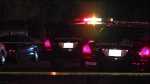 STOCKTON-
A man police say was barricaded in a Stockton motel room surrendered peacefully Wednesday afternoon.
Officers were originally trying to arrest him for an alleged shooting a few weeks earlier.
Police say the man surrendered to SWAT officers peacefully.