This is an archived article and the information in the article may be outdated. Please look at the time stamp on the story to see when it was last updated.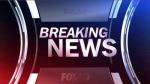 SACRAMENTO-
The Sacramento County Sheriff's Department is working to get an "uncooperative" man out of a south Sacramento home.
Deputies say he ran into the home. No one else appears to be in there with him.
It's unknown if the man is armed.
Stay with FOX40 and FOX40.com for the latest as this story develops.