This is an archived article and the information in the article may be outdated. Please look at the time stamp on the story to see when it was last updated.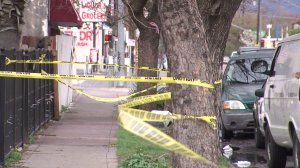 STOCKTON-
A 19-year-old is under arrest in connection with a double shooting on Sunday.
Sunday morning in Stockton, police officers found two people shot along Harding Way.
Deacon Feuerhelm, a 35-year-old man, was dead and a 33-year-old man was rushed to a nearby hospital for treatment.
The US Marshal's Service helped track down and arrest Nicholas Medina for this shooting.