This is an archived article and the information in the article may be outdated. Please look at the time stamp on the story to see when it was last updated.
STOCKTON-
A 15-year-old who was behind the wheel of a car is dead and five others are being treated for injuries after a crash that split a car in half.
Around 8:30 a.m. Friday, a car crashed into a tree along Wilson Way, on the northeast side of Stockton.
CHP officers who responded said it appears the car was going fast, when it left the road and hit a tree.
The driver, who was identified as a 15-year-old who did not have a license, was killed in the crash.
Five others who were in the car at the time were injured, with injuries ranging from moderate to major.
READ MORE: Mother of Teen Hurt in Deadly Crash Speaks Out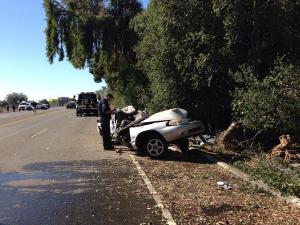 Images from the accident scene show a car split in half after the impact.
FOX40 talked to the mother of one of the injured passengers, who said she "can't believe he (her son) made it out alive". Hear more of her interview on FOX40 News at 5.
The teens had just left a flea market nearby. Employees at a tire shop at the market say the group bought a tire before leaving.
According to the CHP, the boy did not have his parents' permission to drive the car.
Officers are investigating what led to the accident.
Zohreen Adamjee contributed to this report