This is an archived article and the information in the article may be outdated. Please look at the time stamp on the story to see when it was last updated.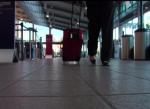 SACRAMENTO-
Sacramento International Airport is handling at least 16 flights originally destined for San Francisco Saturday afternoon.
Sacramento airport officials say after the crash of an Asiana Airlines flight at San Francisco Airport, and the runways shut down, they took in 16 flights as of 3 p.m.
Depending on how long SFO remains closed, Sacramento International Airport may take in more redirected flights.
According to arrival and departure times listed for Sacramento International Airport, the only canceled flights are to or from SFO, and it appears all other flights are on time or only slightly delayed.
Other flights originally bound for SFO have been redirected to other California airports, including LAX in Los Angeles.
Anyone planning on flying anywhere Saturday should check with their airline or airport to make sure flight times have not changed.