This is an archived article and the information in the article may be outdated. Please look at the time stamp on the story to see when it was last updated.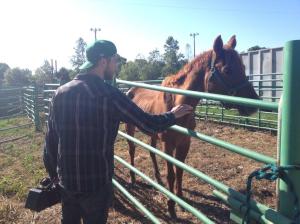 RIO LINDA-
Four horses were taken to the central park horse arena in Rio Linda Sunday after two more horses were put down over the weekend at a Rio Linda residence.
Neighbors Suspect Horse Owner of Neglect
In exchange for the horses, volunteers tell FOX40 they offered owner Lynn Countryman horse supplies. Sacramento County Animal Control confirmed they have an open investigation into Countryman, but have not yet written her up. Within the past week, four horses in Countryman's care have either died or been euthanized.
Fox40 learned Sunday that Countryman was previously convicted of animal neglect in Oregon, once in 1997, again in 2002, and in 2005. Horses were in such bad condition that they had to be euthanized too, according to local animal services.
There are still nearly 30 horses on Countryman's property, to find out how you can help, contact the Back in the Saddle Project at (530) 961-2487.