This is an archived article and the information in the article may be outdated. Please look at the time stamp on the story to see when it was last updated.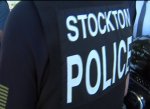 STOCKTON-
From Friday evening to Sunday morning, three people were killed in separate shootings in Stockton.
Officers got a report of a "suspicious death" Friday evening on East Yorkshire Avenue. After finding the body of a 40-year-old man, experts said that he had been shot.
The following night, around 11 p.m., a 23-year-old old man was found dead from a gunshot wound inside his home on South Madison Street.
Sunday morning, police say 40-year-old Robert Earl Thomas shot and killed his aunt in an apparent family dispute. Thomas was arrested, according to Stockton Police.
Anyone with information about the other two homicides is asked to call the Stockton Police Department at (209) 937-8377 or Crime Stoppers at (209) 946-0600.