This is an archived article and the information in the article may be outdated. Please look at the time stamp on the story to see when it was last updated.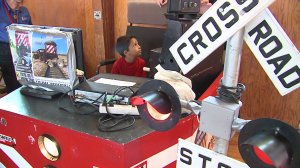 GALT-
The valley is a region filled with hundreds of miles of train tracks. Despite the lights, signs, and horns incidents still happen.
"Too many times people ignore the signs and they try to beat the train and the consequences are injury or death," said Earl Roider with Operation Lifesaver.
The non-profit conducts lessons about rail safety all over the country. They brought a locomotive simulator to the Seventh Day Adventist Church in Galt for a community safety fair on Wednesday. There people can see what it takes to stop a train.
"The engineers, once they see a person or object on the tracks, they're too close to stop," said Steve Walker, who is also with Operation Lifesaver. "A 12 million pound train takes 1.5 miles to stop."
The two also pointed out the misconception where people think they'll have enough time to get out of a train's way.
"Trains coming down the tracks present an optical illusion," Walker said. "Because the size of the train, the angle it's approaching make it look like it's slower than it actually is."
There have been a number of close calls caught on camera. A viral video showing a teen getting kicked in the head technically should have never happened, because being that close to the tracks is trespassing.
"Walking on the railroad tracks, taking short cuts it's dangerous and illegal," said Roider.
In just the last five months, there have been six deaths in the Sacramento region.
Operation Lifesaver aims to prevent any more from happening. "It's the pedestrian and driver's responsibility to be off the tracks because trains can't stop quickly, and we're not able to swerve," said Walker, "When they see tracks think trains."
The Safety Fair is happening at 619 Myrtle Avenue in Galt from 6 p.m. to 9 p.m. Wednesday, April 30.
Along with the simulator there will be vendors, raffles, free gun-locks, and lots of information.