This is an archived article and the information in the article may be outdated. Please look at the time stamp on the story to see when it was last updated.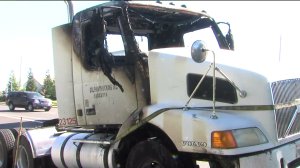 NATOMAS-
A truck carrying propane tanks caught fire Tuesday morning in Natomas.
The fire started in the cab of a flatbed truck driving along Northgate Boulevard, just north of I-80.
The fire was put out before it spread beyond the truck's cab. The driver was able to make it out safely.
Morning traffic in Natomas was not impacted for very long as crews put out the fire and moved the truck.