This is an archived article and the information in the article may be outdated. Please look at the time stamp on the story to see when it was last updated.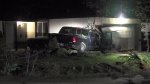 STOCKTON –
A Stockton neighborhood got a rude awakening early Wednesday morning.
A truck was driving the wrong way down the street around 1:30 a.m. Police tried to pull him over, but the driver instead took off leading police on a chase.
That chase ended with the truck slamming into a garage on Lafayette and Garden Avenue.
The driver is in custody. He's been charged with evading police.
Law enforcement also says it's possible the suspect may have been driving under the influence.