This is an archived article and the information in the article may be outdated. Please look at the time stamp on the story to see when it was last updated.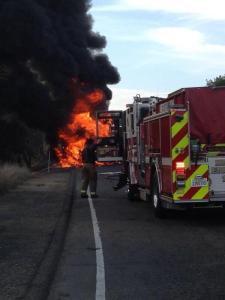 SACRAMENTO –
A semi truck caught fire Tuesday afternoon along the highway, forcing an exit ramp to close.
Around noon, drivers reported seeing flames coming from the cab portion of a semi along eastbound I-80 near the Longview Drive exit.
The truck stopped on the exit ramp, and the driver made it out safely.
For more than an hour, CHP officers kept the exit closed while the fire was put out and the truck was removed.
At this time it appears the fire was the result of a mechanical failure.